It's normal to look for easy and basic low-carb meals when first considering or starting out on the keto diet. It's a big switch going from a high-carb diet to a high-fat, low-carb diet, and at first, it may take a lot of research and compiling food and recipes that are okay to eat. In the Body Reboot book are several ideas on what type of meals and snacks are allowed on keto. It's also important that you start jotting down favorite recipes and having them nearby the kitchen so it's easy to grab them when it's time to make dinner or bake a keto-friendly dessert as opposed to eating something that's not so keto-friendly.
The below basic low-carb keto meals and snacks can help you when you're craving just about everything and when you don't want to cook, these are some great and "quick" low-carb meals. And remember, if you need to create even more basic meals than these (such as eating half of an avocado, ham, and eggs), that's okay too. Whatever helps you stick to this low-carb diet! Keep reading to learn about a few recipes that will certainly help make day to day low-carb easier!
For starters, a quick and easy meal to prepare is eggs and veggies fried in coconut oil. This tasty meal only takes around ten minutes to prepare and the author Healthline says it's filling and nutritious!
Eggs and Vegetables, Fried in Coconut Oil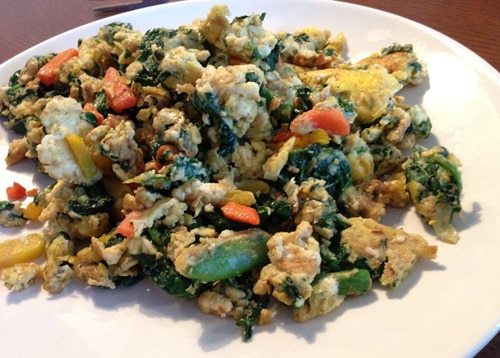 via Healthline
This is what I eat for breakfast literally every single day. I never get tired of it and it keeps me full for a long time.

Ingredients: Coconut oil, Spinach, Frozen Vegetable Mix (carrots, cauliflower, broccoli, green beans) and Spices.

Instructions:
Add coconut oil to frying pan and turn up the heat.
Add vegetables. In my case, I use a frozen mix so I need to let it thaw in the heat for a few minutes.
Add eggs (I use 3 or 4).
Add spices. I use a spice mix, although salt and pepper work great too.
(Optional) Add spinach.
Stir fry until ready.
Another quick and easy meal to prepare is eggs and bacon. The author on Healthline says that eating a lot of bacon may not be that healthy, but it's definitely keto friendly and tastes good too!
Bacon and Eggs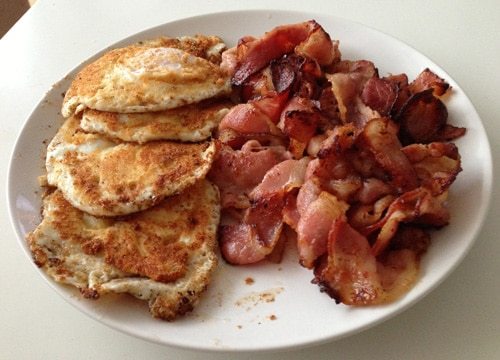 via Healthline
I wouldn't exactly call bacon a health food. It is processed meat, after all.

But it is still low in carbs and you can eat it on a low-carb diet and still lose weight. I personally eat bacon and eggs once or twice a week.

Ingredients: Bacon, Eggs.

Instructions:

Add bacon to pan, fry until ready.
Put the bacon on a plate, fry a few eggs (I use 3-4) in the bacon fat.
(Optional) If you want to add some flavor to the eggs, put a bit of sea salt, garlic powder and onion powder on them while frying.
Another quick meal ideas that you can't go wrong with is a cobb salad, which is super easy to prepare and tastes delicious too! Check out the recipe from Tasteaholics:
Cobb Salad: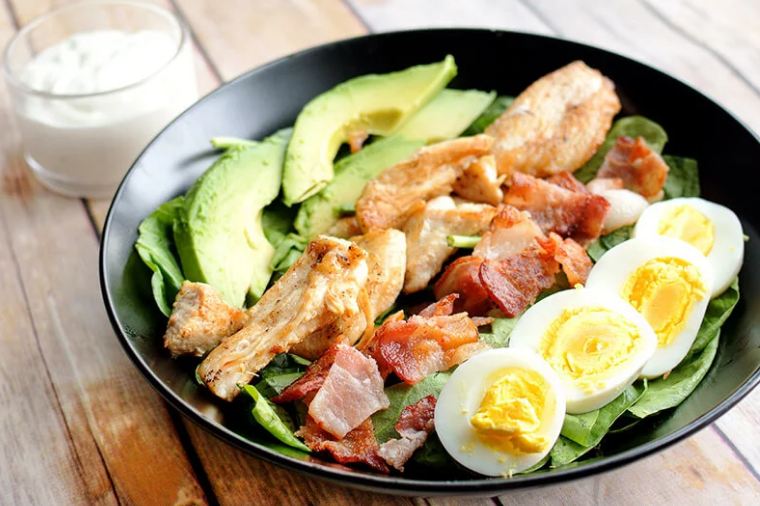 via Tasteaholics
MACROS PER SERVING:
• 600 Calories
• 48g of Fat
• 43g of Protein
• 3g of Net Carbs

INGREDIENTS:
1 cup spinach
1 hard boiled egg
2 strips bacon
2 oz. chicken breast
1/2 campari tomato
1/4 avocado
1/2 tsp white vinegar
1 tbsp olive oil

Instructions
Cook your bacon and chicken if they are not yet cooked. Shred your chicken or slice it any way you prefer.
Chop up all your ingredients into bite-sized pieces.
Combine them in a large mixing bowl with your oil and vinegar (you can also use a low carb bleu cheese dressing!).
Toss well and enjoy!
Another quick and easy and delicious meal that's packed full of keto-friendly nutrients is a Creamy Tuscan Garlic Chicken recipe from Wholesome Yum.
Crock Pot Creamy Tuscan Garlic Chicken Recipe: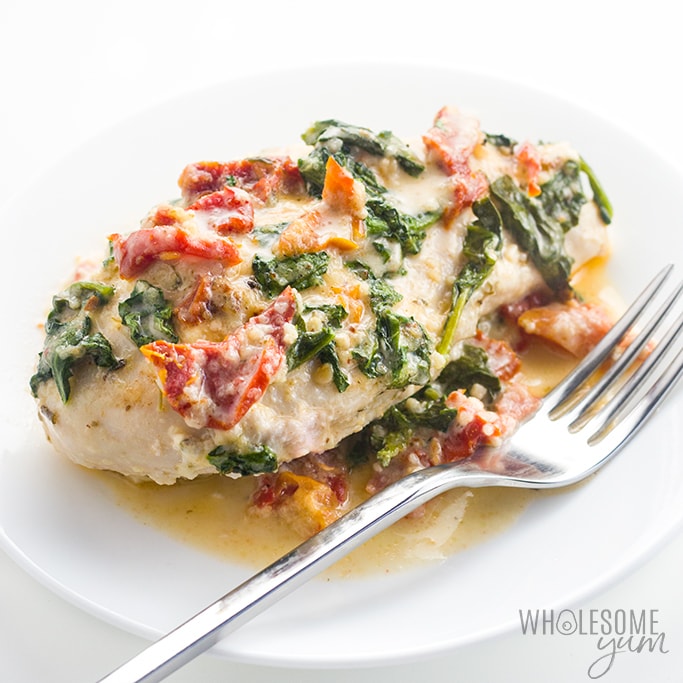 via Wholesome Yum
Creamy Tuscan garlic chicken in the slow cooker makes an easy low carb dinner the family will love. Just 15 minutes prep for this Crock Pot Tuscan chicken recipe!

Course Main Course
Cuisine Italian
Prep Time 15 minutes
Cook Time 3 hours
Total Time 3 hours 15 minutes
Servings 4
chicken breasts
Calories 542 kcal

1 tbsp Olive oil
6 cloves Garlic (minced)
1 cup Heavy cream
1/3 cup Chicken broth
3/4 cup Grated Parmesan cheese
4 large Chicken breast (6 oz each)
1 tbsp Italian seasoning
Sea salt
Black pepper
1/2 cup Sun-dried tomatoes (chopped)
2 cup Spinach (chopped, packed)
US Customary – Metric

INSTRUCTIONS
More tips about this recipe in the post above!

Heat oil in a medium saucepan over medium heat. Add garlic and saute for about a minute, until fragrant.

Add the cream and chicken broth. Bring to a gentle simmer, then set heat to low and simmer for about 10 minutes. The sauce will still be thin, but thicken enough to coat the back of a spoon.

Meanwhile, place the chicken at the bottom of a slow cooker. Season lightly with Italian seasoning, sea salt, and black pepper. Top with sun-dried tomatoes.

When the sauce is ready, keep it at low heat, but not simmering. Whisk in the Parmesan cheese, 1/4 cup at a time, until smooth. Adjust salt to taste if desired.

Pour the sauce evenly over the chicken in the slow cooker. Try to get as much sauce as possible on top of the chicken and less on the bottom.

Cook for 3-4 hours on High or 6-8 hours on Low.

Remove the chicken from the slow cooker and set aside. The sauce in the slow cooker will be thin due to liquid released by the chicken, but the top of the chicken will have a layer of sauce that sticks to it.

Turn the slow cooker on High, if it isn't already. Add the chopped spinach and stir for a few minutes, until the spinach wilts.

Return the chicken to the slow cooker, and spoon the liquid, spinach and sun-dried tomatoes on top, or just pour them over the chicken to serve.
In the mood for some noodles and meatballs? This is a recipe from Iowa Girl Eats that you'll love!
Low-Carb Spaghetti Squash & Meatballs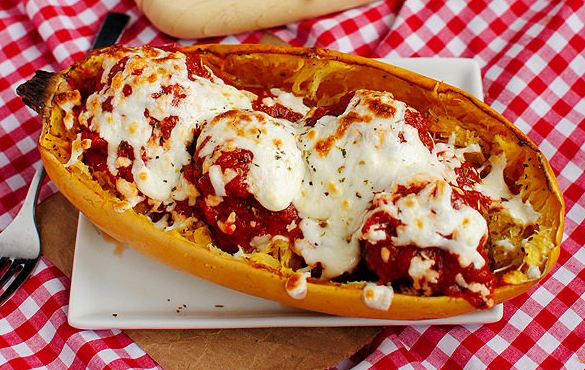 via Iowa Girl Eats
Ingredients
SERVES 4

2 medium-sized spaghetti squash
olive oil
salt & pepper
1 cup marinara sauce
1lb prepared meatballs
1 cup shredded mozzarella cheese

Directions

Preheat oven to 400 degrees. Pierce the center of the spaghetti squash several times on all sides with a small, sharp knife then microwave for 3 minutes, flipping once. Cut spaghetti squash in half lengthwise with a very sharp knife, then remove seeds with a spoon. Lay halves cut side up on a foil-lined, non-stick sprayed baking sheet then brush with oil and season liberally with salt & pepper. Roast for 50-60 minutes, or until a knife inserted into the thickest part of the squash meets no resistance. Let cool for 10 minutes.

While squash is roasting, prepare and bake meatballs

When squash is cool enough to handle, scrape flesh every which way with a fork to loosen and fluff strands. Top with 4 meatballs, 1/4 cup sauce, and 1/4 cup shredded mozzarella cheese each, then broil until cheese is golden brown and bubbly.
Last, but certainly, not least is a recipe that has a bunch of delicious keto food staples such as salmon and bacon! Barbells and Bellinis give us the instructions and ingredients on how to make this dish below:
Salmon BLT Stacks with Lemon Caper Vinaigrette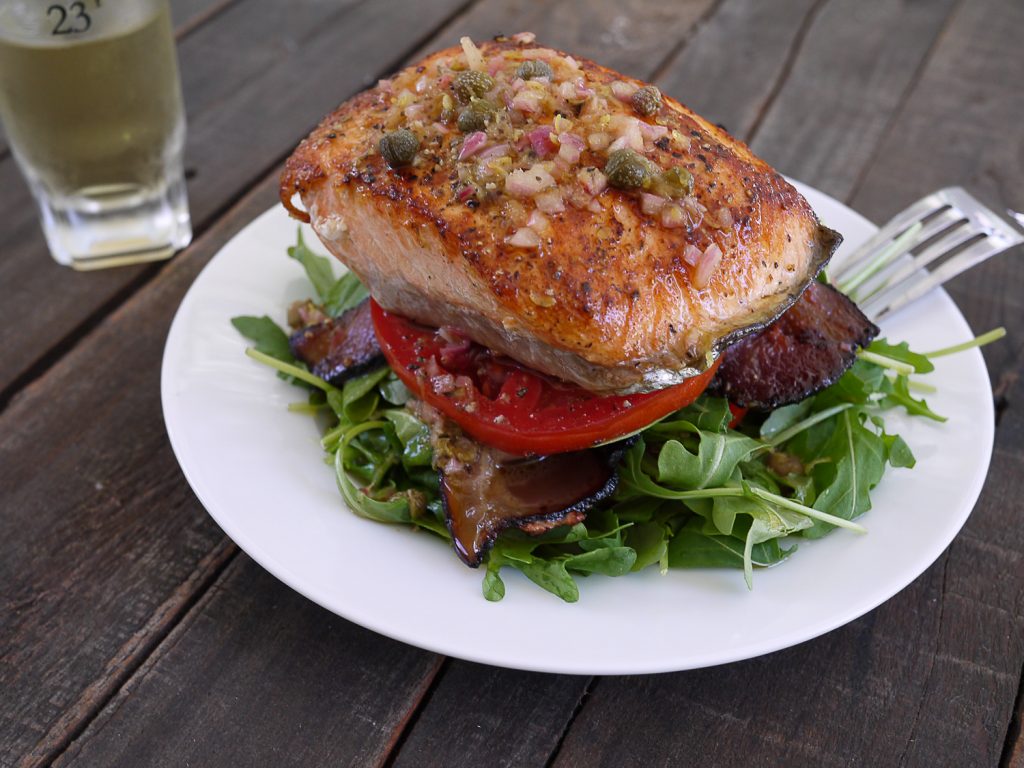 via Barbells and Bellinis
Serves: 4
Prep Time:  20 minutes
Cook Time: 10 minutes
Total Time:  30 minutes

Ingredients:
2 lbs of wild salmon
8 slices of thick sliced applewood smoked bacon
3 tomatoes, sliced
5 ounces of arugula
2 tablespoons of avocado oil
Salt and Pepper to season

Lemon Caper Vinaigrette:
1/2 cup olive oil
3 tablespoons of lemon juice
2 teaspoons of lemon zest
2 heaping teaspoons of capers
1 shallot, minced
1/4 teaspoon of salt

Directions:
For the Lemon Caper Vinaigrette, in a bowl whisk together olive oil, lemon zest, lemon juice, capers, shallot and salt.  

Preheat oven to 400 F.  Season salmon with salt and pepper.  Allow an oven proof skillet to heat over high heat for 5 minutes.  Add avocado oil and then salmon to skillet, flesh side down skin side up.  Allow salmon to cook for 5 minutes undisturbed. Flip salmon and place skillet in the oven for 4 minutes for rare or 6 minutes for well.  Meanwhile, arrange a layer of arugula on plates followed by a tomato slice and two slices of bacon, and repeat the arugula and tomato layers once more.

Top salads with salmon and serve with the Lemon Caper Vinaigrette.
At the time of writing this post, we're currently giving away free copies of the Body Reboot book because it's our mission to increase awareness and to help people lose weight and get healthy! If you help us cover the cost of shipping, we'll send a copy to your door FREE. Go over to this page to see if there are any copies left. At the time of writing this post, we're currently giving away free copies of the Body Reboot book because it's our mission to increase awareness and to help people lose weight and get healthy! If you help us cover the cost of shipping, we'll send a copy to your door FREE. Go over to this page to see if there are any copies left.
Sources: Healthline, Tasteaholics, Wholesome Yum, Iowa Girl Eats, Barbells and Bellinis
There are 4 secrets being kept from you about why a modern diet is making us fatter, more tired & sick.
Discover how to activate your body's "Reboot Switch" that flips on a fat burning inferno so you can finally get healthy and achieve your weight loss goals!
Discover how to activate your body's "Reboot Switch" that flips on a fat burning inferno so you can finally achieve your weight loss goals!