While losing weight on the keto diet there are multiple things we can do to speed along losing weight. Of course, exercise is beneficial as is making sure mental health is a priority. Digesting healthy foods will help tremendously with a person's state of mind, but it's still important to surround one's self with healthy relationships and a good support system. Another way to speed along weight loss and improve mental health is by implementing MCTs.
MCTs (Medium-Chain Triglycerides) are saturated fats that are easy for the body to digest and absorb and it works well as a form of instantly-absorbed energy. Read on to find out what foods MCTs are found in:
"MCTs, which are mostly found in coconut oil, behave differently when ingested and are passed directly to the liver to be used as an immediate form of energy. They are also present in butter and palm oil in smaller quantities.

Oils high in MUFA such as extra virgin olive oil, avocado oil and macadamia nut oil are best for cold use (MUFA are less stable than SFA), for finishing meals or after cooking."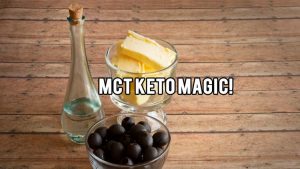 If you want to supplement these dietary sources of MCT oil, check out BodyReboot Keto Activator, which is great mixed in with coffee and all kinds of food & drink for an extra boost to ketosis.
In addition to speeding along weight loss, MCTs have a variety of other benefits as well. That's why it's important to incorporate them into a low-carb diet. Here are a few other reasons as to why incorporating MTCs into a keto diet is a good idea:
Athletes use MCTs to improve and enhance their performance.
They can prevent heart disease.
MCTs are used along with typical medications to treat food absorption disorders including diarrhea, steatorrhea (fat indigestion), celiac disease, and more.
THey improve cognitive health.
While preparing your next keto diet meal, consider incorporating MTCs more often. Recently, more studies have shown that MCTs will not only help you feel full, but raise the metabolic rate at which your body functions. Thankfully this leads to a greater weight loss and health outcomes.
References:
Study On MCT Oil Linked To Weight Loss & Fat Burning
MCT Oil Linked To Weight Loss & Control Of Insulin Sensitivity
Dietary Medium-Chain Triacylglycerols Suppress Accumulation of Body Fat in a Double-Blind, Controlled Trial in Healthy Men and Women
For more information on keto diet details, check out KetoDietApp's Article on the topic.
Discover how to activate your body's "Reboot Switch" that flips on a fat burning inferno so you can finally achieve your weight loss goals!
There are 4 secrets being kept from you about why a modern diet is making us fatter, more tired & sick.
Discover how to activate your body's "Reboot Switch" that flips on a fat burning inferno so you can finally get healthy and achieve your weight loss goals!