When dressed-up kids show up at the door on Halloween night, it's hard not to preach to them about the Keto diet (a high-fat, low-carb diet that has serious health benefits)! For keto newbies who are considering going low-carb or have just started and want to learn about the benefits and food options, reading the Body Reboot book is an excellent place to start! With the holidays coming up it may be challenging to stick with a diet, but learning some keto-friendly recipes and using other Halloween and holiday treats that aren't candy is a good idea. Here are some tasty recipes and candy-free ideas to keep both the keto-dieters and the kids happy!
Glow Sticks
Kids love being entertained by lights, especially during Halloween! If you're trying to encourage your kids or the kids coming to the door to have some extra fun with lights, then glowsticks are the way to go. Ditch the carbs say adults love them too!
Glowsticks – now who doesn't love glow sticks? Even adults love getting these, especially the wristband ones. I've even seen them wrapped around a dog collar so families don't lose their precious pooch on the Halloween trail around the neighborhood.
Gelatin Candy
Who would have thought that gummy bears could be healthy and keto-friendly, but according to Healthful Pursuit and Whole New Mom, it turns out gelatin is great for your gut! This keto friendly could be a great Halloween treat for you or the entire family – use your favorite keto-friendly sweetener and a few other ingredients, and you should be all set!
The great thing about gelatin is… well, there are several things great about it actually! Gut-strengthening, skin-healing, and body-balancing to name a few! You can get Halloween shaped molds like these to make this keto recipe even more Halloween-friendly!

Ingredients
1/2 cup freshly-squeezed lemon juice
3 Tbsp grass-fed gelatin (see vegan alternative above in notes)
liquid stevia (to taste) (I used 30-40 drops)

Instructions:

Whisk all ingredients in a small sauce pan.
Heat over low heat until mixture loses its "applesauce" consistency and starts to liquify.
Pour into molds. (I like to transfer the mixture to an easy-pour container first to avoid spills, especially if you have small molds!)

Allow gummies to set. You can either do this by placing molds on a flat surface in the freezer, fridge or on the counter. The freezer is your quickest option and will take about 10-15 minutes to set.

Remove from molds and store in the fridge in an air tight container. These will last about two weeks, although the texture becomes firmer over time, they are still delicious!
Stickers
Whoever thought stickers could do the trick for a clever Halloween treat?! For younger children (and sometimes older ones as well), Wellness Mama recommends handing out stickers because it's a great alternative to giving out candy.
I have to say, kids have ruined stickers for me. They seem to think it's a great idea to plaster stickers on any surface to make it more festive. (There is still sticker residue on their bunk beds to prove it.) Since Halloween is about fun for the kids though, I'll be a sucker and order 1000 of them really inexpensively for treats to give out.
Bloody Brains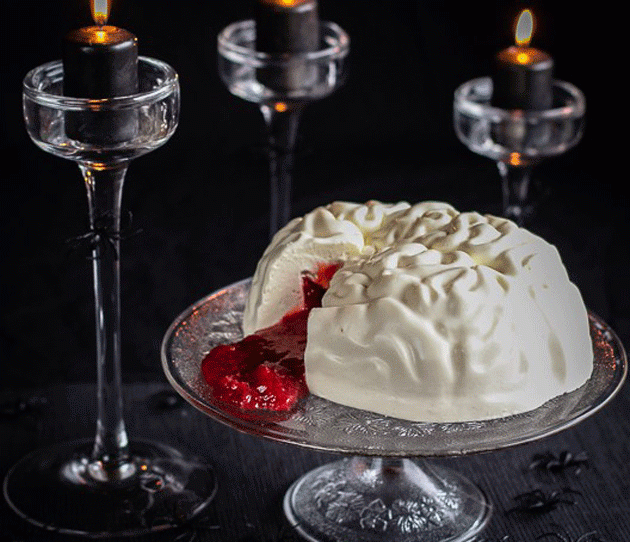 via Low Carb Simple
Yes, you read that correctly! Bloody Brains is a super impressive dessert that your keto friends will no doubt love! Low Carb Simple has a fantastic recipe on how to make bloody brains for Halloween, and trust me; this is a recipe you can't miss (below).
2 1/2 cups = 600 ml organic heavy cream
1 1/2 tablespoons gelatin powder
3/4 cup = 180 ml Confectioner's Style Swerve OR powdered erythritol
1/2 teaspoon ground vanilla beans OR seeds from one vanilla bean
1 lb = 450 g sugar-free strawberry jam

Pour 1 cup (240 ml) heavy cream into a medium saucepan or a heatproof bowl. Sprinkle the gelatin powder on top. Set aside.

Put the rest of the cream (1 1/2 cups = 360 ml) in a large bowl. Add the sweetener and the vanilla. Whip until stiff peaks form. Set aside.

Heat the cream and gelatin powder mixture until steaming hot but not boiling. Mix constantly to ensure that all the gelatin is dissolved. You can also heat the mixture in a microwave oven.

Drizzle the hot cream mixture into the whipped cream mixture, constantly beating with an electric mixer. The final mixture should be runny with just a hint of fluffiness left.

Rinse quickly a human brain gelatin mold under cold water. Pour the runny gelatin mixture immediately into the gelatin mold, before the mixture starts to set.

Take an empty plastic, ceramic or glass jar, 4 inches (10 cm) in diameter. Grease the outer surface of the jar with oil or softened butter to help remove it from the ready gelatin. Place the jar carefully in the middle of the gelatin mass and press it maximum 2 inches (5 cm) deep.
After inserting the jar, refrigerate the gelatin overnight.

On the next day when the gelatin is properly set, remove carefully the jar. Hold the jar and start to move it very slowly doing circular movement so that the jar comes loose neatly, without breaking the gelatin.

Make sure that the gelatin comes loose completely from the mold before you pour in the strawberry jam: Rinse the mold under hot, running water ensuring that the complete mold is rinsed. Notice that NO gelatin should be in touch with water.

Carefully and slowly remove the gelatin from the mold starting from the edges. Press the edges with your fingers to see if the gelatin comes loose. If you have problems with removing the gelatin, continue rinsing the problematic areas with hot water for a short while until you can release the gelatin completely. Tilt the mold gently to loosen the rest of the gelatin.

After you have successfully checked that the gelatin gets loose from the mold, quickly pour the strawberry jam into the hole in the middle.

Place the serving plate upside down on top of the mold.

Hold both the mold and the serving plate firmly together and quickly turn over the whole thing.
Remove extremely carefully the mold ensuring that the gelatin comes loose nicely and completely.
Halloween Cookies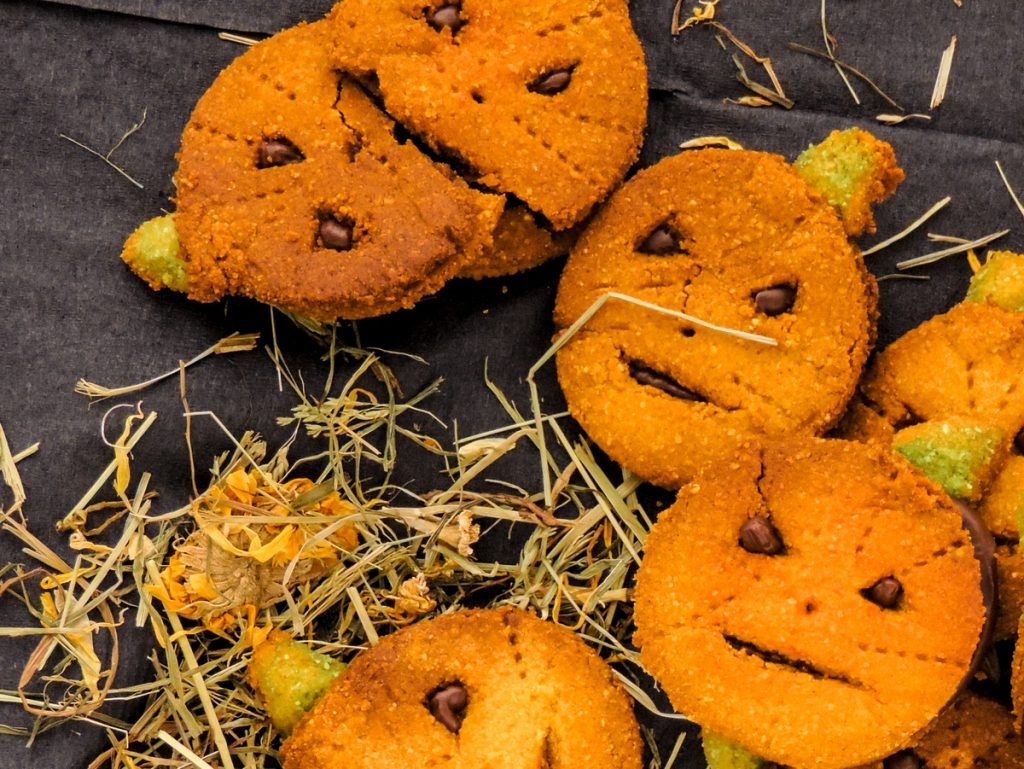 via My Sweet Keto
Of course, you can't have Halloween without something orange, which is why making pumpkin cookies is not only delicious but can be keto friendly too! My Sweet Keto has the perfect low-carb recipe for yummy tasting Halloween treats.
Those chocolate ghosts go so well with Halloween cookies. The latter are orange flavored (not just orange-looking) to resemble pumpkins. The chocolate decoration combines with crunchy orange faces and creates an unforgettable fusion in your mouth. Everybody will want more than you can bake!

Prep Time 20 minutes
Cook Time 13 minutes
Servings 16 cookies

INGREDIENTS
Cookies
3/4 cups almond flour
1/4 cups coconut flour
1/4 cups powdered erythritol or sweetener of choice
1/2 tsp. baking powder
1/2 tsp. turmeric powder optional – adds the yellow color
1 tbsp. orange zest or ½ tbsp. dried orange zest
1 dash salt
1/8 tsp. xanthan gum
1 large egg room temperature, whisked
1/4 cup butter
2 tbsp. IMO syrup
Decoration
1 oz. dark chocolate melted
1/4 large egg white optional
2 tbsp. powdered erythritol optional
1/4 tsp. matcha green tea powder optional

Cookies

Preheat the oven to 320°F (160°C) and line a baking sheet with parchment paper. Prepare the ingredients.

Combine the dry ingredients. Add the whisked egg.

Put IMO syrup and butter into a medium-size pot. Heat on medium-high and stir until melted and well combined. Set aside and let cool to room temperature. Add the mixture to the dough and knead until well incorporated.

Roll the dough into 1/8-inch thick layers.

Cut out 16 discs with a 2-inch round cutter or help yourself with a glass. Place the discs on the cookie sheet.

Use the spare dough to form pumpkin stems. Press the stems onto the discs.

Bake for approximately 13 minutes. Get creative! Use a knife or fondant tool kit to make the cookies alive!

Mix the egg white with powdered sweetener until you get a dense white mixture. Use it for drawing. Additionally, mix part of this mixture with matcha powder to color the stems.
Bouncy Balls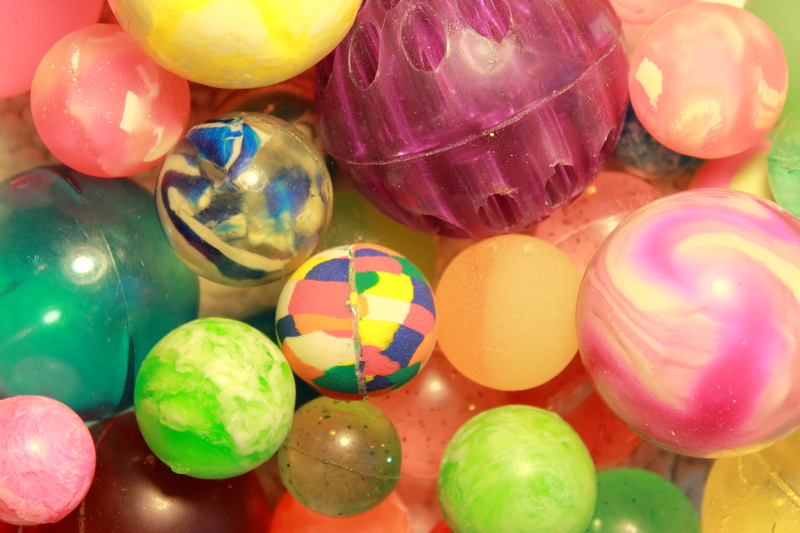 Bouncy balls are a lot of fun for kids, and Ditch the Carbs also mentions they can be a lot of fun for adults to hand them out to kids! It's a great way to discourage kids from having too many sweets on this already non-stop candy day of the year.
Bouncy balls – big ones, little ones, and how about glow in the dark eyeball ones? I love the stress relieving squeezy pumpkins. Maybe the parents need these after having a home full of neighborhood kids who are climbing the walls with that sugar candy high?
At the time of writing this post, we're currently giving away free copies of the Body Reboot book because it's our mission to increase awareness and to help people lose weight and get healthy! If you help us cover the cost of shipping, we'll send a copy to your door FREE. Go over to this page to see if there are any copies left.
Sources: Ditch the Carbs, Low Carb Simple, Healthful Pursuit, Whole New Mom, My Sweet Keto, My Sweet Keto recipe, Wellness Mama
There are 4 secrets being kept from you about why a modern diet is making us fatter, more tired & sick.
Discover how to activate your body's "Reboot Switch" that flips on a fat burning inferno so you can finally get healthy and achieve your weight loss goals!
Discover how to activate your body's "Reboot Switch" that flips on a fat burning inferno so you can finally achieve your weight loss goals!