Carol Lovett posts some brilliant and delicious creations on her gluten-free lifestyle blog (see below), but her meat bagels might just be her greatest, so far! Not only are they delicious and easy to make, they're low-carb, too.
If you are looking for a no-wheat, zero carb version of a bagel that's still doughy, chewy, and dense, then this may not be exactly what you're after. BUT, if you want to be adventurous, this ring-shaped paleo-fied stand-in will be just the thing. Carol's recipe does include some diced onions and a bit of tomato sauce, so it's not 100% carb-free, but it's generally keto-friendly.
Ingredients:
1 ½ onions, finely diced
1 tbsp of
butter/grass fed ghee/bacon fat etc.
2 pounds of ground pork
2 large eggs
2/3 cup tomato sauce
1 tsp
paprika
1 tsp salt
½ tsp pepper
Directions:
Preheat the oven to 400 degrees F. Line a baking dish (like this one) with parchment paper.
Sauté the onions over medium heat with some cooking fat, like butter, grass fed ghee etc. Sauté until translucent. Allow the onions to cool before adding them to the meat.
In a bowl, mix all of the ingredients including the cooked onions. Mix well enough to evenly distribute the spices.
Divide the meat into 6 portions. Using your hands, roll a portion into a ball and then indent the middle, and flatten slightly to form the appearance of a bagel.
Place the bagel looking meat in the dish and repeat with each of the portions of meat.
Bake for 40 minutes or until the meat is fully cooked.
Allow the meat bagels to cool. Slice the meat bagel just like a regular bagel. Fill the meat bagel with your favorite keto-friendly goodies like avocado slices.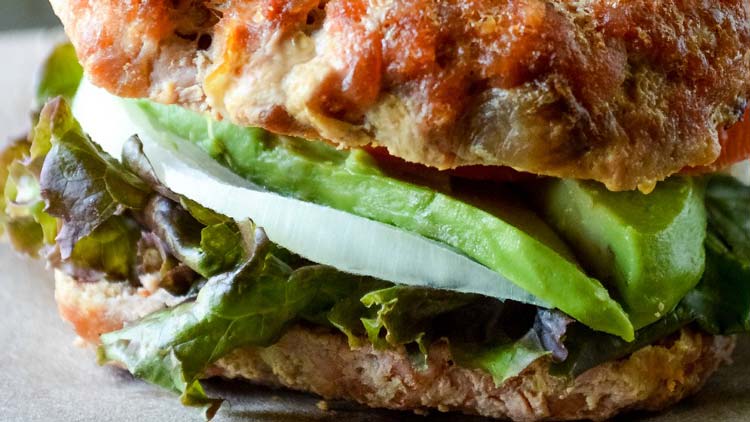 We know you'll have a new favorite item on the menu.
Check out Carol's site, DitchTheWheat to see her classy food photos and wheat-free recipes.
Discover how to activate your body's "Reboot Switch" that flips on a fat burning inferno so you can finally achieve your weight loss goals!
There are 4 secrets being kept from you about why a modern diet is making us fatter, more tired & sick.
Discover how to activate your body's "Reboot Switch" that flips on a fat burning inferno so you can finally get healthy and achieve your weight loss goals!