There are loads of studies that support the idea that the "standard American diet" is responsible for an epidemic-level rise in obesity and related diseases. Fortunately, programs like the Body Reboot, that focus on long-term, sustainable low-carb eating are becoming more popular, as the food and health industries aren't doing enough to help. One additional factor that really messes with our health in a big way are so-called 'hormone-disruptors'.
Hormones are bio-chemicals naturally produced by the various glands of our endocrine system to help control many body functions, from reproduction, to growth and healing, and especially the way our bodies convert calories into energy and into stored fat. Hormones directly affect almost every aspect of how our bodies function and things that throw the endocrine system out of balance, causing too little or too much of some hormones to be introduced into our system, should be avoided at all costs. You might be surprised to learn that certain foods and ingredients act as hormone distruptors and, although they may not be 'fattening' in and of themselves, these foods damage your body's ability to shed body fat and limit your available energy.
That's right, some of these items are billed as healthy, but they make it harder for your body to burn off body fat and get fit. We've talked before about the danger of plastics that trick our bodies by leaking chemicals called xenoestrogens into our bodies, due to food storage, clothing, even receipt paper. The first 'health' food on our list also contains a form of estrogen mimic, in this case a phytoestrogen. That food is the humble soy bean! Non-organic soy plants (about 99% of all soy) contain their own built-in pesticides. Those pesticide properties also appear to be correlated with several negative effects on humans who consume them, including hormone disruption.
Flaxseed is another ingredient to limit in your diet, although you can easily phase it out, altogether. Studies of flax consumption show that too much of it is correlated with a variety of hormonal imbalance issues, including the inability to lose body fat, especially fat stored around the midsection. The phytoestrogen in flax are called lignans, a different type from the pesky one found in soy, but too much exposure can still trick your body's estrogen receptors into thinking you have high levels of estrogen, causing your endocrine system to act out of control.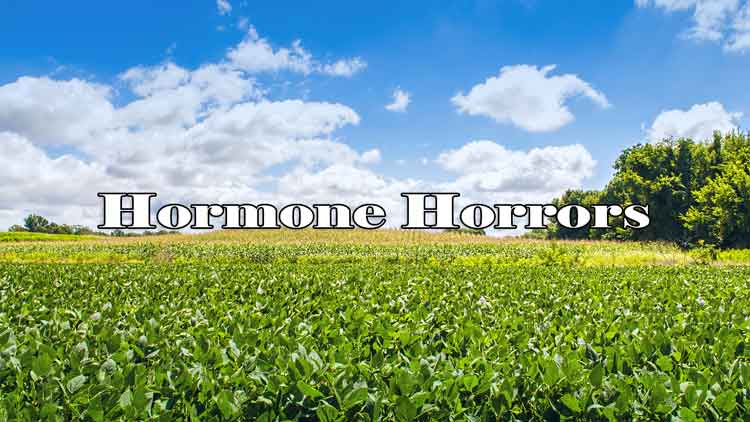 The last hormone-wrecker on our super-short list is less of a surprise: non-organic dairy. Cow milk from concentrated animal feeding operations and products derived from it, including cheese and some whey protein powder also comes with a variety of hormone-disrupting factors. Since cattle kept in these conditions are fed an unnatural diet and kept alive and producing extra milk through the use of antibiotics and artificial hormones, some of that makes it down into their milk.
This is mostly caused by what society has turned the modern dairy cow into. Organic milk from free-range cows or organic goat milk is a better alternative.
These are just a few of the foods that may not be especially high in carbs or calories, but knock your body out of whack so it's much tougher to get healthy. Don't waste all your determination to lose weight and get fit just because you pick the wrong foods. If you're serious about following a science-based diet with proven results the Body Reboot bookwill not only help you get healthier and lose weight without cutting calories, it includes plenty of organized information about what to eat and what to avoid. It'll guide you on the path to long-term health, but help you understand why to eat some foods and why to avoid others.
Sources:
Researchers suggest caution, limiting exposure to endocrine-disrupting soy.
Estrogenic properties of flaxseed.
Hormones in Dairy Foods and Their Impact on Public Health
Discover how to activate your body's "Reboot Switch" that flips on a fat burning inferno so you can finally achieve your weight loss goals!
There are 4 secrets being kept from you about why a modern diet is making us fatter, more tired & sick.
Discover how to activate your body's "Reboot Switch" that flips on a fat burning inferno so you can finally get healthy and achieve your weight loss goals!