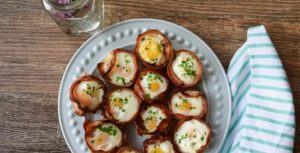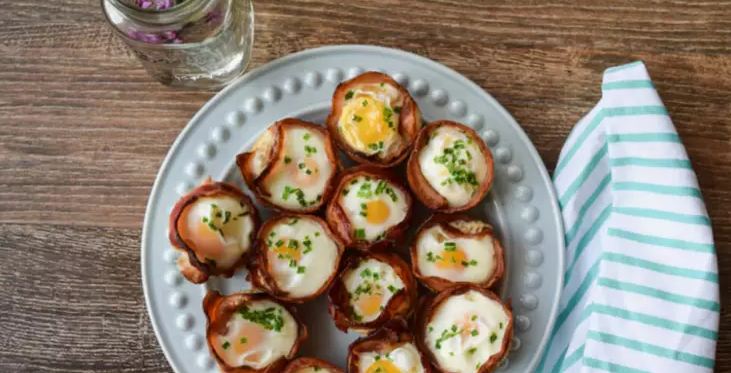 When people want to get healthy, their first thought isn't eating a lot of bacon. It's true that bacon has a lot of fat and isn't the greatest thing to eat on a daily basis, but on a low carb diet, it's allowed. Many people on a low carb diet consider bacon a diet staple. The reason why it's a staple is that on the keto diet, which is a high fat, low carb diet, bacon happens to be delicious and high-fat food to eat. It may sound crazy, but by eating bacon and other high-fat foods (don't worry, healthy fats are encouraged on keto), low carb dieters have taken back their health and lost weight too. Below are delicious bacon filled meals that are keto-approved and who's kidding, also tastes fantastic!
Bacon Wrapped Cheese Sticks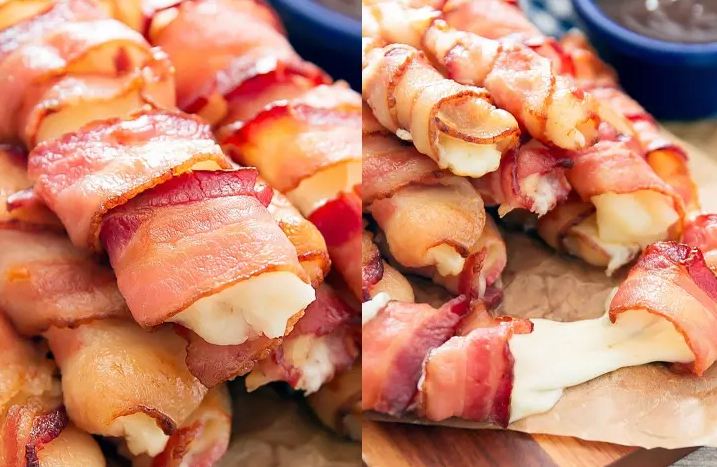 Forkly gives us another idea on how to incorporate bacon, and it's by using cheese! Being on a low carb diet means eating lots of cheese, and bacon wrapped cheese sticks are the perfect way to combined two keto staples.
Along with bacon another encouraged food while on the keto diet is, cheese. Yes, ooey-gooey oh-so-delicious cheese. If that didn't get you excited then let's take it up a notch. These cheese sticks are wrapped in salty bacon that makes a stretchy cheesy delicious bite.

The trick to ensure you don't end up with a mound of melted cheese is to use packaged pre-cooked bacon so that the slices of bacon can easily wrap around the cheese as well as cut down on the cooking time. This recipe is so easy, only 2 ingredients kind of easy, and you'll have perfect keto-approved snacks ready swiftly.
Cheesy Bacon Bombs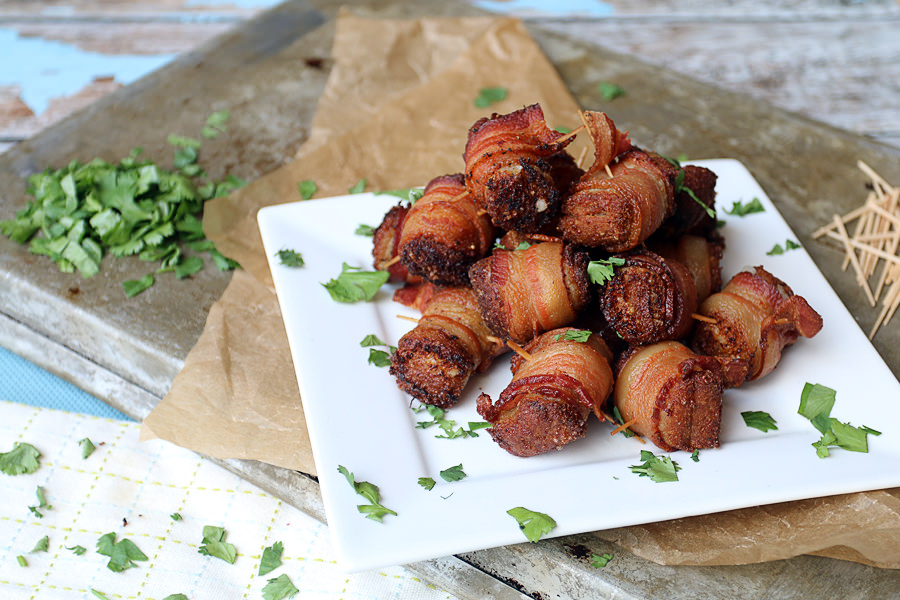 Another cheesy meal that incorporates bacon is cheesy bacon bombs. Ruled.me provides the recipe as well as how to make them:
They're very easy to make, but it is a little time consuming (wrapping anything in bacon requires the utmost care of course, which also means time invested). But, in the end, they're well worth taking your time over because they're just fantastic. All of the spices come through subtlety in the dough of the "bread". The delicious taste of the bacon paired with the tallow I fried them in is delicious. The cheese oozes out as you bite into them when they're still warm, and the crunch to finish it off is the perfect ending to an all-encompassing bite.
Add 4 oz. (half) Mozzarella cheese to a bowl.

Microwave 4 tbsp. butter for 15-20 seconds or until it is melted completely.

Microwave cheese for 45-60 seconds until melted and gooey (should be a bit more melted than shown in picture).

Add 1 egg and butter to the mixture and mix well.

Add 4 tbsp. almond flour, 3 tbsp. psyllium husk, and the rest of your spices to the mixture (1/4 tsp. Salt, 1/4 tsp. Fresh Ground Black pepper, 1/8 tsp. Garlic Powder, and 1/8 tsp. Onion Powder).

Mix everything together and dump it out onto a silpat. Roll the dough out, or using your hands, form dough into a rectangle.

Spread the rest of the cheese over half of the dough and fold the dough over lengthwise.

Fold the dough again vertically so you form a square shape.

Using a knife, cut the dough into 20 squares.

Roll the dough into the bacon tightly until the ends are overlapping. You can "stretch" your bacon if you need to before rolling.

Do this for every piece of dough that you have. At the end you will have 20 cheesy bacon bombs.

Heat up oil, lard, or tallow to 350-375F and then fry the cheesy bacon bombs 3 or 4 pieces at a time.

Remove to a paper towel to drain and cool once finished.
Bacon Cheeseburger Salad
If you're looking for a meal that's easy to make and that will help you feel full, Real Balanced explains that a bacon cheeseburger salad makes the perfect meal. Plus, if you're on a low carb diet check out the net carbs!
This keto and low-carb Bacon Cheeseburger Salad is packed with flavor and will keep you full and energized for hours! This recipe is keto, low-carb, gluten-free, grain-free, refined-sugar-free, and has only 1.2g net carbs per serving!

Salad

8 oz bacon
1 lb ground beef
1 tsp salt
9 oz romaine, chopped
4 1/4 oz (119g) pickle slices, roughly chopped
3/4 cup finely shredded cheddar cheese

Dressing

1/4 cup mayonnaise
1/4 cup sour cream
1 oz (28g) pickle slices
1 tbsp pickle juice
2 tsp classic monk fruit sweetener (use code "REALBALANCED" for 20% off Lakanto products)
1 tsp yellow mustard
1/8 tsp onion powder
Optional Topping

1/2 cup chopped green onions
Yellow mustard

Instructions
Preheat oven to 425 degrees and line baking sheet with foil and baking rack. Lay bacon strips on baking rack in even layer.
Bake bacon in oven until crispy, about 15-20 minutes depending on thickness of bacon. (Alternatively, bacon can be cooked on stovetop over medium heat and drained of excess grease on paper towel-lined plate).
Meanwhile, brown ground beef on stovetop over medium heat. Once cooked, remove from heat, add salt, and mix thoroughly. Do not drain liquid from ground beef.
Once bacon has cooked, allow to cool slightly before crumbling.
To a large mixing bowl, add ground beef, crumbled bacon, romaine, shredded cheddar, and pickles.
In a high-speed blender or food processor, blend dressing ingredients until smooth.
Pour dressing over salad and mix until well-incorporated.
Transfer salad to refrigerator to chill for 1 hour.
Optional: Drizzle yellow mustard and sprinkle chopped green onions over top of salad.
Serve chilled and enjoy!
Bacon Wrapped Chicken Tenders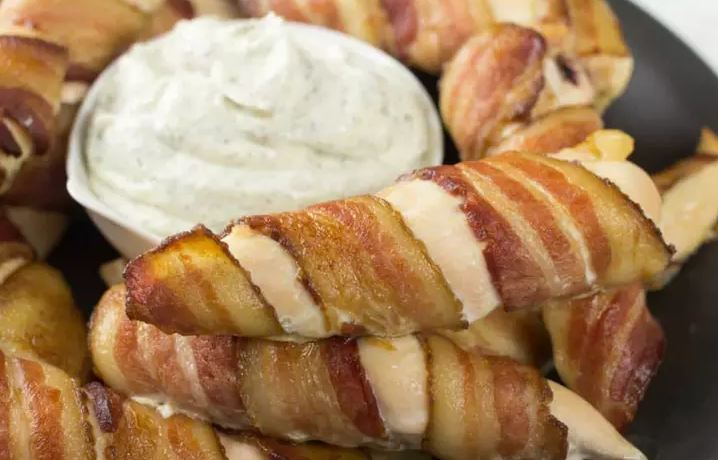 If you want to make sure you're getting enough protein and fat in your diet, making bacon wrapped chicken tenders is a fantastic way to combine both. Forkly mentions below how to combine the two, and it sounds terrific!
Chicken tenders are often a household dinner staple, especially the breaded kind. It is clear that on the Keto diet breaded chicken tenders are a definite no-go. Alas, you have these lovely bacon wrapped chicken tenders instead.

Bacon makes everything better, remember! These two-ingredient tenders take only 5 minutes to prep and that's definitely the kind of easy we all need in our lives. This recipe also comes with a homemade ranch dip that pairs really well with these chicken tenders, they'll be gobbled up in no time. Not to mention, kids will love this recipe just as much!
Bacon Cheeseburger Casserole
Love hamburgers, bacon, and cheese? Then you're in luck! Low Carb Yum provides a fantastic recipe on how to prepare a bacon cheeseburger casserole.
Need a simple ground beef casserole to feed your family or friends? They will love this easy burger casserole with bacon.

Prep Time 20 minutes
Cook Time 35 minutes
Total Time 55 minutes
Servings 12 people
Calories 587kcal

Ingredients
2 pounds ground beef
2 cloves large garlic
1/2 teaspoon onion powder
1 pound no sugar bacon cooked and chopped
8 eggs see note
1 can tomato paste 6 ounces
1 cup heavy cream
1/2 teaspoon salt
1/4 teaspoon ground pepper
12 ounces grated cheddar cheese divided

Instructions
Brown ground beef with garlic and onion powder.
Drain excess grease, then spread beef on bottom of 9×13-inch casserole pan.
Stir bacon pieces into cooked beef.
In medium bowl, whisk together eggs, tomato paste, heavy cream, salt, and pepper until well combined.
Stir 8 ounces grated cheese into egg mixture.
Pour egg mixture over beef and bacon.
Top with remaining 4 ounces of grated cheese.
Bake at 350°F for 30-35 minutes or until golden brown on top.
Keto Cheese and Bacon Rolls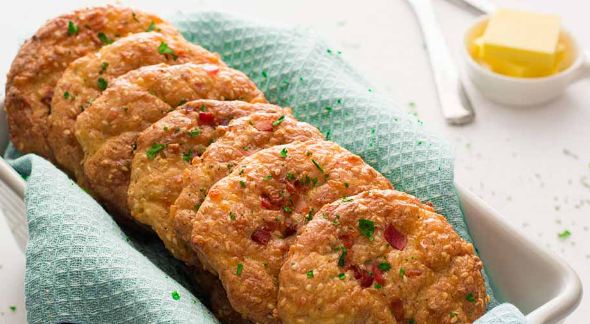 My Keto Kitchen reveals how to make yummy keto cheese and bacon rolls, which would be perfect for a party or just because!
Ingredients for Making Keto Cheese & Bacon Bread Rolls
5 ounces of Bacon, diced (approximately 6 slices)
2 tablespoons of Cream Cheese
2 tablespoons of Sesame Seeds
1 tablespoon of Psyllium Husk
1 ½ teaspoons of Baking Powder
1 cup of Cheddar Cheese, grated
½ cup of Mozzarella Cheese, grated
3 Eggs
½ teaspoon of Pepper
1 pinch of Salt

How To Make Keto Cheese & Bacon Bread Rolls
Preheat oven to 180C/355F.
Saute diced bacon in a non stick frying pan over medium heat, until just starting to brown. Turn off the heat.
Add the cream cheese to the bacon and allow to soften while the bacon cools for 5 minutes.
In your food processor, place the bacon and cream cheese mixture, along with all remaining ingredients. Keep a spoonful of the bacon aside to top the rolls.
Blend on medium speed for 3-5 minutes until all ingredients are well combined.
Spoon the mixture into 12 even piles on lined baking trays. Sprinkle the reserved bacon on each roll.
Bake for 13-16 minutes, until the rolls are golden and puffed up.
Enjoy them hot from the oven or store in the fridge. They can be quickly reheated in a microwave or toaster oven.
Bacon and Egg Cups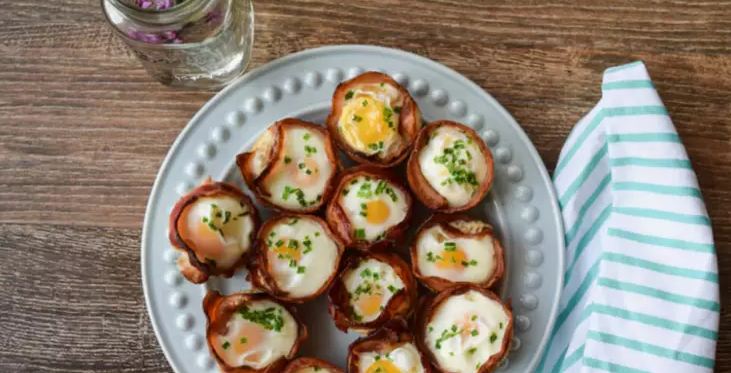 Don't bacon and egg cups sound delicious? For a yummy breakfast recipe, try making bacon and egg cups. Forkly shares how to make them below:
Bacon plays a special role in this breakfast recipe. It serves as a perfect edible cup for these delicious eggs. These cups are full of protein and even great for on-the-go mornings and if you live a busy lifestyle on the go breakfasts are definitely what you need.

Following, if you like make-ahead recipes you'll love this. They store well in the fridge for a couple days and even freeze well. You'll want to make bulk quantities so you never skip breakfast again.
Bacon is delicious, and makes a delicious snack and meal when you're on a low carb diet! If you're looking for a diet where bacon is more than okay to eat, learn more about the keto diet. At the time of writing this post, we're giving away free copies of the Body Reboot book. Help us cover the cost of shipping, and we'd be happy to send you a FREE book. Head to this page TODAY to see if there are any remaining copies.
Sources: Forkly/Joy Filled Eats, Forkly/Kirbie Cravings, Forkly/Seasonal Cravings, Real Balanced, Low Carb Yum, My Keto Kitchen
Discover how to activate your body's "Reboot Switch" that flips on a fat burning inferno so you can finally achieve your weight loss goals!
There are 4 secrets being kept from you about why a modern diet is making us fatter, more tired & sick.
Discover how to activate your body's "Reboot Switch" that flips on a fat burning inferno so you can finally get healthy and achieve your weight loss goals!